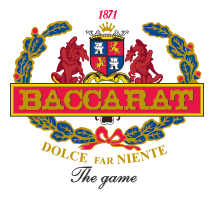 Baccarat is a brand which has been around since 1871, when it was purportedly created by Carl Upmann (brother of the more well-known Herman of "H. Upmann" fame). Currently distributed by Davidoff of Geneva,  the current incarnation of Baccarat is a mild blend created by Julio Eiroa: fillers of Jamastran Valley habano, a Mexican dulce binder, and a wrapper of mellow Ecuadorian Connecticut. The most remarkable aspect of a Baccarat is its sweetened cap, a pleasant side effect of the use of Indian gum as a sealing agent.
Baccarat cigars at Allegheny Smokeworks:
Baccarat Original
Baccarat Maduro
Note: Our inventory changes often. Not all lines may be available at all times. Please call to confirm availability.