About ASW
Stop in and relax with your favorite smoke. World problems solved daily!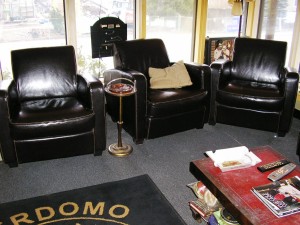 Open since 1997, Allegheny Smokeworks is a traditional smoke shop located in the Fox Chapel area of Pittsburgh.
Ours is a shop owned and run by cigar and pipe lovers for cigar and pipe lovers.  We have over 1,000 facings of cigars to choose from. One of our greatest pleasures is educating the consumer to enhance your pipe and cigar smoking experience.
Our humidor shelves are non-discriminatory. We strive to offer the finest selection possible, so an old favorite may be hiding on a low shelf or nook. Position is no reflection on quality; we are proud of everything we carry. If you can't find what you're looking for, don't be afraid to ask.
We also carry pipes in all price ranges and over 200 varieties of tobaccos, both bulk and tinned. We also have a custom-blending bar so you can experiment and create your own mixtures. We host the meeting of the Pittsburgh Pipe Club on the second Saturday of every month; whether you're an old pro or just learning the ins-and-outs of the pipe world, you're welcome to join us here.
Our comfortable lounge is second to none, a gentleman's haven and a scoundrel's sanctuary. You have plenty of new friends here…you just haven't met them yet! We're located only minutes from downtown Pittsburgh on Freeport Road; from the city, take Route 28 North to the Blawnox exit (Exit 9).
The coffee's always on!